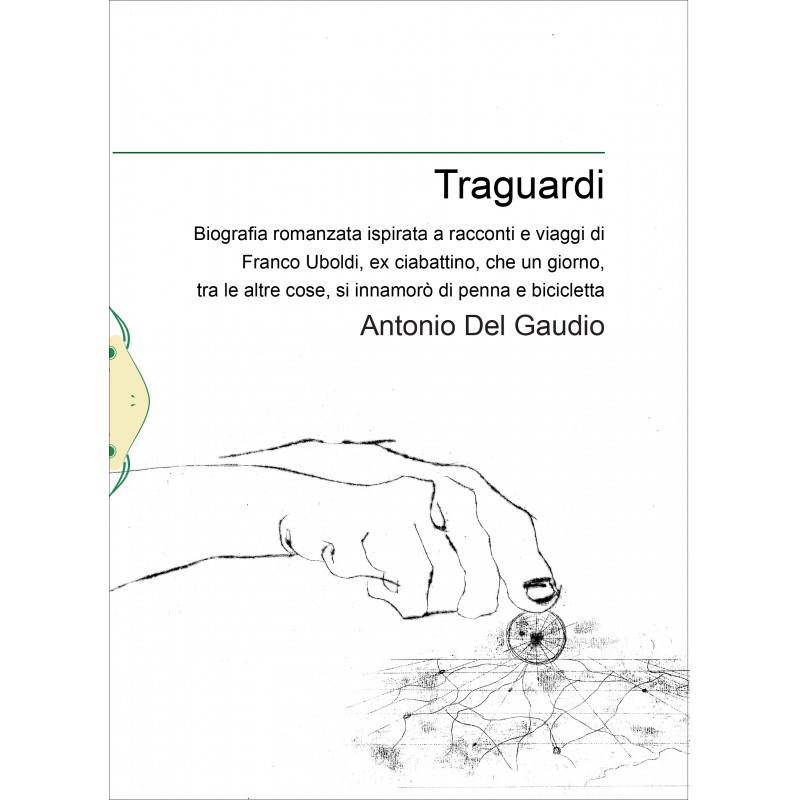  
Traguardi
Traguardi - Antonio Del Gaudio
Biografia romanzata ispirata ai racconti e ai diari di viaggio di Franco Uboldi,storico ciabattino di Arona, che un giorno, tra le altre cose, si innamorò di penna e bicicletta
pagine 418
ISBN:

978-88-943484-7-7
Love and passion, not only between people, are the most powerful forces we know and sometimes they decline in an incredible way. In the story of Franco, a cobbler from Arona, they manifested themselves between a passion for sport, a desire for personal cultural growth through reading and writing and love for his Yvonne, the woman who gave meaning and heart to his life. In the book Antonio Del Gaudio tells about various sporting feats (not all, there are too many) around the world of this humble and extraordinary character, letting himself be personally involved in his lively enthusiasm, his simplicity and depth of thought. And he discovered that all his races, his victories, his goals, his efforts have a common thread, an indispensable and strong ethical basis, love. The need to grow culturally by filling that gap that saddened him from a young age, the passion for sport that becomes his way of discovering and exploring the world and the human beings he meets. And finally, love is the definitive, total one, which makes your life take unthinkable folds and gives you that energy that keeps you going despite all the difficulties, its Yvonne.
Can there be a more powerful mix than this?

Antonio Del Gaudio in fictionalizing this extraordinary life, with his ability as a storyteller, makes us participate in all this, travels, sports feats, internal troubles, even sorrows, surprises. Franco Uboldi's diaries and memories could not remain in a drawer and have become a book to be savored, following Franco in his story.