NaturEat Magazine
Welcome!
Natureat Magazine is the first digital magazine with over 50 plant-based recipes published by Il Babi Editore.

Born from the idea of ​​the personal chef and creator of recipes Patrizia Saccente, @natureatfood has become a real Visual Magazine!

Thanks to the collaboration of numerous foodbloggers, nutrition experts, direct and unpublished interviews with people who have made their lives a manifesto of sustainable change, Natureat Magazine will lead you into the world of food that is aware and respectful of nature and its rhythms.

The Magazine, in addition to informing you, will entertain you with stories for the little ones and will flood you with colors: our illustrator and graphic designer has created customized images for each page, and filled the others with photographs that will make your mouth water.


Choose the format you prefer in the categories:

PDF - ideal on PC and mobile (download the free Adobe Reader app to make the most of interactive content)

EPUB - ideal for tablets and ebook readers

Write us your feedback on our social networks or via email!
PLEASE NOTE: WAIT to receive the payment confirmation via email and the LINK from which to download the magazine. You will receive 3 emails, the second with the LINK for download. If you don't receive them or you only receive one, check your SPAM.

Only in that case your order will be successful, otherwise you have abandoned the cart too soon. Come back here and complete your order!

Thank you for your understanding.
MEANWHILE YOU CAN DOWNLOAD HERE THE FREE PREVIEW OF THE LAST ISSUE OF THE MAGAZINE!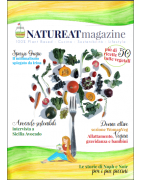 No products available yet
Stay tuned! More products will be shown here as they are added.